Steel warehouse platforms are an ideal solution to increase the capacity of your warehouse area simply and without any structural modifications. They can be single-level or multi-level. Their use results in maximum and optimum use of the entire room, not only the floor space but also the height of the room or hall. Steel platforms also help to utilise space above existing technologies or workplaces. Steel platforms can be combined with lifts and conveyor systems.
Take advantage of our range of products in the PROMAN e-shop. Choose basic pallet and shelf racks. You can configure the cantilever rack according to the load/dimensions to your requirements. The system will automatically generate a quote for you. At the same time, you will find a wide range of accessories for pallet and shelf racks in the e-shop.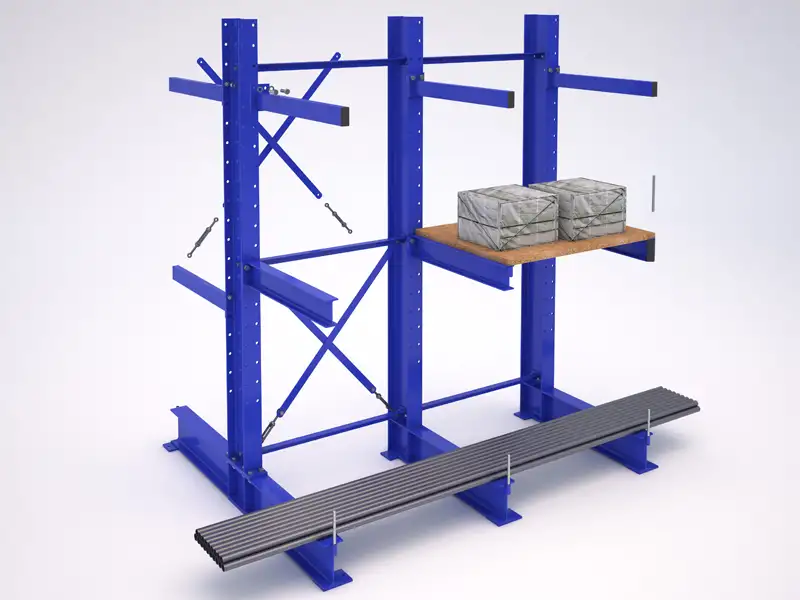 Steel Platform Construction

Steel platforms are self-supporting, prefabricated structures made from partially welded components. They are made from standard rolled and cold-formed steel section, which is reinforced using stabilizing rods with tensioners. It is not standard practice to anchor the steel platform construction to a building's columns or walls, because it is possible to compromise the building's structural integrity. In order to use the platforms, it is necessary for the space to have a height of at least 4.5 meters. Our design has a minimum ceiling height of 2.1 meters. It is possible to equip the platforms with various accessories, such as elevators, chutes, mesh, labels, lighting, etc.

Technical Details

The platform quote includes:

Load-bearing columns
Main and secondary beams
Cross bracing
Platform decking
Staircases, railings, and other accessories as required

Optional accesories

Post protection
Sliding, tiltable gates
Floor design (chipboard, steel grating, metal panels and their combinations)
Escape ladders
Load distribution plate

Downloads
Timelapse video - rack assembly
Why choose PROMAN

Complete Supply from the Proposal to the Installation and the following Service
We provide our customers with the offer including draft of the racking solution for free.

Professional Service in Czech Republic and Abroad
PROMAN s.r.o. is one of the most distinguished suppliers of all types of racking systems on the market and is able to respond in a very flexible way to any and all of a client's needs.

Our Experience Guarantees your Satisfaction
During that time we have made a trunover of more than 40 bilions of Czech crowns.